CENTRE FOR CREATIVITY
CENTRE FOR CREATIVITY presents "We Are Open"! with a selection of furniture that represents the recent, compelling production of Slovenian designers and independent furniture producers in a group exhibition.
"We Are Open"! is dedicated to showing some of the freshest, smartest design in the country. And it's 100% SLO, which means it's made with the freshest, quality local ingredients. It's design to enjoy, design to live by… design to buy for. The exhibition then includes designs that are innovative, display strong individual qualities, and communicate a certain animated spirit of both time and place.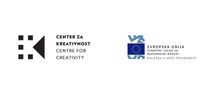 Add to selection