TEA HERITAGE
With the return of the cold, TEA HERITAGE wishes you to spend warm moments with its unique and personalized tea bags. All products are conceived and made in her workshop located in Lyon. Winter has never been so sweet.
The founder, created her first heart-shaped tea bags for Valentine's Day, not finding what she was looking for in stores. This is how this beautiful adventure began! With this first success, she decided to imagine new shapes and to develop as well new tea flavors. Small tea bags are handmade and are biodegradable. A beautiful initiative "made in France" that is exported to 34 countries and is now able to create custom tea bags for large international companies.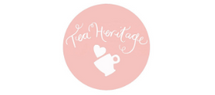 Add
News
22/01/2021 Collection 2021

En ce début d'année, Tea Heritage lance sa nouvelle collection autour de l'exploration, du partage et de la nature. Que ce soit à travers un sachet en forme de globe terrestre, d'avion, de chouette ou de montgolfière, la mission de la marque est de continuer à nous faire rêver, nous faire voyager depuis notre tasse de thé.