OMY
Present at Maison&Objet Fair
From 08-12 September 2022
SMART GIFT
Hall 1 — Stands I17
OMY offers a range of cheery, graphic and intelligent products for the home. Suitable for both children and grown-ups.
Behind OMY, there are two Parisian creators: Elvire Laurent and Marie-Cerise Lichtlé, graphic designers and illustrators. OMY is their favorite playground and experimentation ground, drawing their inspiration from the world around them, their families and friends to propose innovative and graphically different products inspired by fashion and design trends. Instinctively, they decided to develop a range of products that meets their desires and create a new creative concept that quickly becomes a must-have: the giant poster!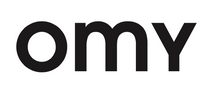 Add
News
01/02/2021 Stick it

Stick-it, a 5m long sticking roll to use everywhere in the house

09/09/2017 Press Release - OMY Creative Kits

OMY is expanding its catalogue with a new collection of Do-It-Yourself activities, with the launch of the new OMY Creative Kits!