BAAYA GLOBAL
Baaya Global brings to you the art, artefacts, and installations handmade by Indian artisans. Every Baaya product represents the culmination of skilled craftsmanship and visionary design innovation, meant to transform contemporary spaces.
India is blessed with an enormous variety of skills in the heritage and folk arts. Baaya Design is a Mumbai-based design house that uses the power of Indian heritage skills to let people and places tell their own story. As a social enterprise, Baaya also serves to secure the dignity and livelihood of the rural artisan. Baaya Global, the international division of Baaya Design, is presenting unique creations on MOM that have been handpicked for the global market. As a special gesture to the artisans in the wake of COVID-19, a promotional 20% discount is applicable on all Baaya products on MOM.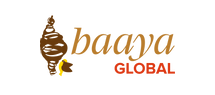 Add
News
14/01/2020 Une marque indienne d'artisanat présente des produits uniques et éclectiques pour le style intérieur

Baaya Design est un studio de design qui travaille avec des artisans locaux de l'Inde pour créer de l'art, des artefacts, des accessoires d'éclairage et de décoration. Chez Baaya, l'innovation de conception rencontre l'artisanat qualifié pour créer des produits uniques et éclectiques. Chez M&O, nous présentons des objets d'artisanat indien tels que l'émaillage du cuivre et la peinture Pattachitra.