FREAKLAB
Brush, pencil and chisel. My atelier is based on these rules. Pictorial and therefore sense of color. Design and the importance of the sign. Modeling and the pleasure of dealing with matter.
Freaklab is a contemporary laboratory born in 2016 by Antonio Sunseri. Passionate about ceramics, he develops his research by deepening the techniques of majolica and terracotta. His works are unique pieces. The theme is that of the relationship between man and nature. Creates zoomorphic and phytomorphic hybridizations. He chose the term "Freak" because he always created works tending to the monstrous, understood as different, enriched with exaggerated and disturbing characterizations, which make it strangely pleasing to contemplative and attentive observation.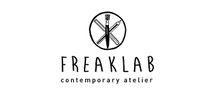 Add
Projects
News
18/12/2019 Apéritif avec bols Freaklab

Bols d'animaux originaux pour arachides, croustilles et plus encore. rendre l'apéritif joyeux et amusant. Vous pouvez les disposer à table pour mettre les sauces d'accompagnement sur la viande ou le brai. Rendez l'atmosphère bizarre. Disponible en trois tailles différentes et personnalisable.