RUDI BY GIOBAGNARA
RUDI creations are made entirely by hand with Tecnocuoio®, a composite UV-resistant and water-resistant material. The brand offers a selection of aesthetic solutions for interior design projects, high-end Ho.Re.Ca and the yacht interiors market.
In 1996, Rudi Rabitti trademarked in Milan Tecnocuoio®, a composite material, both UV-resistant and water-resistant, made from leather castoffs from its own production. The company was well ahead of its time in adhering to a zero-waste philosophy that was both eco- friendly and functional. The objective of RUDI is to eliminate all leather waste and create beautiful objects from recycled materials that are perfect both for indoors and outdoors, able to generate an elegant yet casual atmosphere where simple lines play with complex patterns, looking for practical yet always original solutions.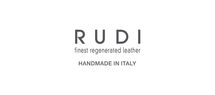 Add
News
09/03/2021 GIOBAGNARA — 2021 LATEST RELEASES

Discover our latest creations: decorative objects, personal accessories and outstanding furniture pieces. This season's novelties include sharp, elegantly functional articles belonging to Giobagnara Main Collection, Pigment France, Rabitti1969 and Rudi, as well as the products born from the consolidated collaborations with the designers Stéphane Parmentier, Glenn Sestig and Francesco Balzano.