FORMAGENDA
FORMAGENDA's lamps stand for emotion and personality. They are not purely functional or fashionable. FORMAGENDA creates lamps that matter.
The products are never brash or loud, but rather simple, geometrically reduced. The lamps gain their potential as classics of tomorrow not just by their form language, but by Formagenda's intuition for subtle, playful combinations and surprising contrasts that breathe life into the seemingly basic shapes. Formagenda is a lighting manufactory. The products are handcrafted, made in Germany and processed on a very high level. Formagenda works on an intense and personal basis with the suppliers and is using "classic" craftsmanship techniques instead of "impersonal" machinery processes.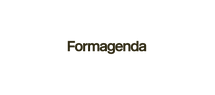 Add
News
26/08/2020 PROFILE Lighting Family

This Years news is the PROFILE lighting family. PROFILE. The name already gives an insight to the concept. A sophisticated profile serves as the base for the different variants of the PROFILE luminaire family. A minimal concept with design at it's highest level forms a linear system for a wide variety of applications. Perfectly chosen cuts and roundings form the concise contour.