LA TISSERIE
La Tisserie creates exceptional handcrafted weaves in the heart of the Massif Central. Carpets and wall hangings are woven as per an age-old craftsmanship. Céline Camilleri, designer and founder, casts a contemporary light on this cultural heritage.
La Tisserie elaborates unique carpets and objects that interact with the light to give the room a special tone. The wools, noble and local source materials, are mostly used in their natural shades. The workshop's artworks enhance the space, speak to the senses and invite the users to travel into their inner space. La Tisserie belongs to an ethical, sustainable chain of production that remains rooted on a territory. This pledge places humans and environment in the centre of the process and dictates a new aesthetic through its good practices.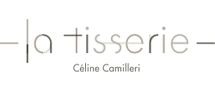 Add
News
14/09/2020 Salon International du patrimoine culturel, Caroussel du Louvre, du 28 au 31 Octobre 2020, Paris

Porté par Ateliers d'Art de France depuis 2009, le Salon International du Patrimoine Culturel rassemble et fédère l'ensemble des acteurs des métiers du patrimoine. Moment unique d'échanges et de réflexion, le salon accueille chaque année plus de 300 exposants et 20000visiteurs, grand public comme professionnels, pendant 4 jours au Carrousel du Louvre à Paris.

14/09/2020 Showroom OH MY LAINE, galerie Heureux les curieux, du 13 au 17 Octobre, Paris

Le showroom Oh my laine! présentera aux prescripteurs des matières en laine inspirantes proposées par 7 marques sélectionnées pour leur créativité, leur savoir-faire et l'attention qu'elles portent à l'origine des matières. En 2020, la sélection Oh my laine! portée par l'association de filière LAINAMAC1 réunit 7 marques exclusivement issues du secteur de la décoration d'intérieur et du fait main.