TOKIO FURNITURE & LIGHTING
Tokio is a contemporary, forward-looking design brand with a focus on technically well-crafted design products for today's thinking individual.
Founded in 2011 by Gorazd Malacic, Tokio prides itself on being a new design brand with a contemporary vision free of the cumbersome weight of heritage and tradition that might cloud its stylistic judgment and ultimate design output. The result is a futuristic take on smart home objects that push back against the rigid confines of what is seen as trendy or simply of the moment in today's contemporary design landscape.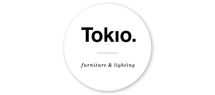 Add
News
14/10/2021 New addition to TRI LIGHT Family!

With our forward-looking approach, we wanted to celebrate our 10-year anniversary with a progression of the TRI Light's elegance – the sculpture that came to life is this smart-device disguised in art. Controlled via a remote controller (that can be connected to other TRI Lights in your apartment) can bring illumination to your study or set the mood for something cozy.