GIBERTO VENEZIA
Venetian brand of luxury home decor objects designed by Giberto Arrivabene Valenti Gonzaga and created by Murano glass masters and other local artisans.
I've always had a passion for glass and handmade objects - says Giberto Arrivabene Valenti Gonzaga. I started by designing glasses for my friends and family about twenty years ago. Soon after, as I started getting more and more requests, I decided to get serious about it and founded Giberto Venezia with my wife Bianca. The glass products are all handblown my Murano glass masters and later hand engraved on the island. But there's nothing better than creating an object that brings together all artisanal traditions from glass, to fabrics, to semi-precious stones and wood.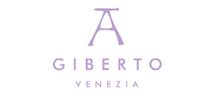 Add
Projects
News
27/07/2020 Discover Giberto Venezia's Products on Artemest

Explore the Mare glasses and the Alessandrite glasses on the Artemest website. Enjoy a colourful table of handmade Murano glassware with your friends and family, or have the glasses engraved with a monogram or a date and gift them to the newlywed couple.