MARUMITSU POTERIE
"Meals are Delightful" From planning the menu to washing your treasured dishes, from cooking to plating the food and from choosing the tableware to setting the table. Having a delightful meal is about enjoying all these moments of happiness.
Since 1950, we have been working with local potters of the Seto area, home to kilns with the longest production history in Japan. Bringing a French flair to Japanese tableware, we are making tableware to appreciate meals to the fullest, tableware that one never get tired of. With the belief that function is at the heart of design, we create our tableware while having in mind how it will be used or what food would be best plated on it, and associate a wide range of clay with traditional and modern glazing techniques. Local potters bring high-quality and "artisan touch" to our collection.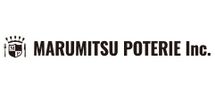 Add
News
21/04/2022 New Collection for Spring and Summer 2022

With beautiful four seasons in Japan, we learned to sense and appreciate transition of each season in many ways from the ancient times. Crop calendar called "Shichi-jyuni Kou" (72 period) is a beautiful phrase to describe sensitive changes of each season. Our new collection was inspired by this beautiful phrase. MARUMITSU POTERIE invites you to this seasonal celebration through your dining table.