FABRAP
C H A N G E T H E W A Y W E G I V E Reusable Sustainable Giving FabRap re-defines the act of giving producing beautifully illustrated fabric gift wrapping. From one generous act to another, nothing is wasted.
FabRap produces beautifully illustrated, reusable gift wrap for every occasion. FabRaps are made from 100% GOTS certified organic cotton. Zero-waste, these gift wraps can be used time and again to delight and enhance the act of giving. Our premium high quality 100% organic fabrics add to the value of every gift given while looking after our precious resources at the same time. We have chosen to use a fabric that is soft, yet durable enough to stand the test of time so that our FabRaps can be handed from recipient to recipient for years to come. Packaged in recycled paper envelopes.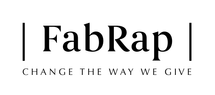 Add
News
02/09/2020 FabRap featured in Baby Sussex book to honor the Royal Baby Archie's first year

FabRap is one of only 15 brands to be featured in a book about Baby Archie's first year. The Duke and Duchess of Sussex adhere to a sustainable lifestyle and therefore the producers of the commemorative book featured a few brands which they thought were applicable to this cause. FabRap is thrilled to be one of the brands chosen to be included!

01/09/2020 FabRap announces new styles for Christmas 2020

FabRap est heureux d'annoncer que nos nouveaux styles de Noël pour 2020 seront disponibles pour livraison en octobre !