MAILOU TRADITION - DOUDOU ET COMPAGNIE
Each piece made by Maïlou Tradition is UNIQUE! From design to final product, we push our requirements to Excellence. Our goal: to reindustrialize and reinvent manufacturing of plush toys in France.
Labeled EPV, Maïlou Tradition is located in Brittany in the village of Châteaubourg. We are determined to rework the fundamentals of manufacturing in France in order to make the FRENCH PLUSH POPULAR, at a fair price and respectful of the environment. We want to create a strong brand, marked by a traditional heritage, focused on the consumption of tomorrow. Our goal is to create authentic pieces forever, like a family jewel handed down from generation to generation.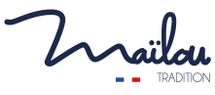 Add
News
08/03/2021 2021-Actuality