MEDIUM OBJECTS
We create objects that allow us to feel, contemplate, communicate with oneself and with the world around us. Real and invisible.
Lightweight and recreational edition. Our collection of papers is an elegant and poetic way of presenting yourself to the world. Today, when human contact is so rapid, paper is instant language. We take particular care in choosing our recycled papers, always offering a particular touch, a unique texture and precise finishes. Our stationery is printed in Belgium with expertise and love. Inspired by a walk in museum gardens, this collection exudes the freshness of green and the influence of works of art: intimate and universal.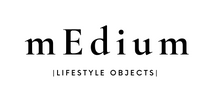 Add
Collections
News
31/08/2020 Hypersensitive

For September 2020 Medium OBJECTS honors hypersensitive. Therapeutic cards, divination cards, paradoxical cards, the supports we create are doors of entry to other universes, means of discovering and discovering oneself even more subtly. Active in the design of mediation tools, Medium OBJECTS treats lightly the sensitive points. To discover.