MICHEL AUDIARD
Sculptor of works off the beaten track ... Unique piece, nothing but unique piece!
Unique, refined, airy, transparent, luminous, these adjectives qualify the Michel Audiard' artworks, drawing his talent from encounters and travels. They all have a message to convey which depends on the way each one looks. A follower of the use of bronze, he also turned to other materials such as stainless steel and resin to create sculptures, each as grandiose as the next. An aesthetic singularity of the artworks of Michel Audiard, a beautiful story for each unique piece, a discovery each time creation, an emotion to share.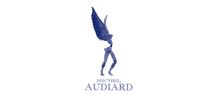 Add
News
17/09/2020 The Cheverny Dog

During 2019, Madame and Monsieur De Vibraye, owners of Château de Cheverny contacted Michel Audiard with a project, that of a sculpture representing their Anglo-French from the Cheverny pack. After the presentation of models, the most representative is accepted and will serve as a model for the creation of the monumental sculpture which will be presented from June 15 in the gardens.