PARANOCTA
Present at Maison&Objet Fair
From 08-12 September 2022
PARANOCTA, finally wireless lights that really light up!
PARANOCTA designs innovative outdoor wireless lights. Rechargeable, connected, waterproof and ultra-mobile, they really light up: 8.5 hours of comfortable and efficient light over 30 m² at 360°. Professional quality, design and very functional, they simplify evenings on the terrace and allow you to take full advantage of all outdoor spaces without constraint. Quick to install and store and easy to move, PARANOCTA is very flexible: at the same time, it can be used as a floor lamp, a lantern to be placed or hung, or a compact design bulb.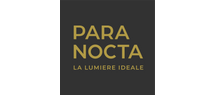 Add
News
03/03/2022 PARANOCTA, designer of innovative wireless lighting, presents BULBEE, the ingenious and avant-garde wireless design lamp

Its name evokes the contraction of BULB = light bulb and BEE = bee, known for not holding still! The BULBEE wireless bulb combines technology, performance and aesthetics. The quality of its finish and the efficiency of its lighting are impressive. It can be placed, suspended or inserted in the garden or in the living room. Connected, it is also very ergonomic.

10/02/2021 PARANOCTA joins the French Tech

On January 19th, we move into our new commercial office, in the Villa Angers French Tech. Preparing our export launch with the French Tech network and developing our selective distribution network on the territory are our 2 objectives in 2021.

02/09/2020 PARANOCTA : adopted by the French presidential couple for their private terrace

PARANOCTA now lights the private terrace of the presidential couple since this summer. Their French design, performance and high mobility have enabled PARANOCTA wireless street lamps to reach the most selective terrace in France.