PARANOCTA
PARANOCTA designs innovative rechargeable, versatile, waterproof and connected wireless LED outdoor lights that provide 30 m² of 360° comfortable and efficient light for 8.5 hours anywhere.
PARANOCTA offers a range of modular lighting fixtures for balconies, terraces, courtyards and gardens for private individuals and professionals in the catering, accommodation and reception sectors. PARANOCTA offers an alternative to expensive and restrictive wired lighting thanks to its powerful and comfortable light, adjustable and remotely controllable, ideal for illuminating moments of conviviality outdoors. PARANOCTA also offers fixing and charging accessories. Lépine 2018 Competition Medalist Adopted by the French presidential couple for their private terrace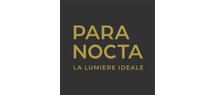 Add
News
10/02/2021 PARANOCTA joins the French Tech

On January 19th, we move into our new commercial office, in the Villa Angers French Tech. Preparing our export launch with the French Tech network and developing our selective distribution network on the territory are our 2 objectives in 2021.

02/09/2020 PARANOCTA : adopted by the French presidential couple for their private terrace

PARANOCTA now lights the private terrace of the presidential couple since this summer. Their French design, performance and high mobility have enabled PARANOCTA wireless street lamps to reach the most selective terrace in France.