AFFRESCHI & AFFRESCHI
The plaster-based luxury wallcovering manufactured in Italy. From colors to dimensions, from subjects to inspirations: each design is an elegant, living, human project.
In 1997 Affreschi & Affreschi began the long journey to become a unique reality in the world. Born from the intuition of its founder Dario Roselli, Affreschi & Affreschi has revolutionized the world of wall decorations, becoming the first wallcoverings manufacturer with plaster-based support to be applied on the wall. All designs are made on sheets of fresh plaster, kneaded by hand by our master craftsmen from a special mixture of 27 high-quality raw materials, which include lime, grains of Carrara marble and Roman travertine. Customized and made to measure, with a sartorial effect.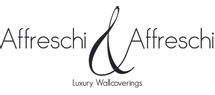 Add
News
01/07/2021 The launch of Tailor new collection, created exclusively for Affreschi & Affreschi by Studio MILO.

Tailor new collection has been exclusively designed for Affreschi & Affreschi by Studio MILO. Tailor is a collection with two souls. Le Ruche, with a romantic and bon-ton flavour, evokes the soft-ness and the sinuosity typical of high fashion fabric. Le Plissé, inspired by plissé technique, celebrates its classic elegance in a modern and up-to-date way.

05/10/2020 SEASON 1, the new Collection by Affreschi & Affreschi

Season 1 is the new collection designed by Vincenzo D'Alba | Kiasmo, coming out on Wednesday September the 30th. 134 auteur artworks which, as Lorenzo Madaro describes, "go beyond time, in an extraordinary flow they mix ancient and present, archaisms and redundancies, lightness and material density". Season 1 catalogue will be available from October the 1st in our resellers shops.