ART DE LYS
Attending MAISON&OBJET
17-21 January 2020
HOME LINEN Hall 5A — Stands O159
ART DE LYS, based in the North of France, designs, weaves and manufactures high-end textile accessories for the home since 1890: cushions, tapestries, cosmetic bags and other decorative objects.
Thanks to our know-how and expertise, we have inherited a palette full of colours and designs, which enable us to innovate and adapt our creations to today's and tomorrow's home decors. All our creations are 100% French. Our authentic knowledge was distinguished under the French national "Living Heritage Company" label.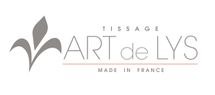 Add to selection
News
28/02/2019 ART DE LYS innovates with new designers

ART DE LYS innovates... new designers for new designs... printed on a soft and nice fabric

27/02/2019 new collection january 2019

nous sommes tres heureux de vous proposer notre derniere collection. toute l'équipe du tissage d'Art de Lys vous remercie vraiment de l'accueil que vous avez reservé à nos produits. c'est une belle récompense du travail de tous

12/07/2018 2018 September collection

Discover our new september collection!