SALIU
SALIU - A collection of fine tableware and homeware made from carefully selected materials to enhance your enjoyment of seasonal cuisine.
Caring for and cherishing each element in life has always been a symbol of Japanese culture. We preserve this tradition by valuing handcrafting and creating beautifully unique, long-lasting items. We hope you will feel and appreciate the change of seasons with your 5 senses through our exceptional pieces that convey the Essence of Japan. This is our commitment to enhance your quality time.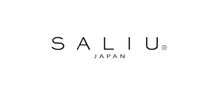 Add
News
14/09/2022 Launch of our beechwood cross trivet!

23/08/2022 Announcing the launch of our new digital SALIU catalog!

Discover our new catalog featuring additional colors to our SYO tea-ware collection and many more products to discover.

08/08/2022 Extend your summer barbecue dinning all year round with our SALIU charcoal grill

Indoors or outdoors, enjoy convivial moments with our SALIU grill. Our charcoal grill is made at Nankaku, one of the best mortar manufacturers in Japan located in the city of Toki, Gifu prefecture. The craftsmen use a know-how that has been passed down since the company was founded in 1910. *Please ventilate the room sufficiently for indoor use.