BAN INOUE
Feel the change of four seasons Make your mood gaiety Spend everyday life sensible For your everyday life to spend with a rich spirit. BAN INOUE treasures aesthetic feeling and sensibility of the Japanese people.
Vision of BAN INOUE Items to use for everyday life must be something that harmonize with modern life as well as make everyday life beautiful and comfortable while inheriting the traditional beauty and spirituality of Japan. We believe so. We want to assimilate the eternal sensibility of the Japanese people into modern life and keep passing it on to the future.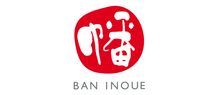 Add
News
18/03/2021 Launched our website in Chinese!

Japanese brand BAN INOUE has launched a new website in Chinese. You can see our manufacturing philosophy, brand story and product introduction. http://cn.asa-ban.com/ Check it out now.