UMAGE
Attending MAISON&OBJET
17-21 January 2020
HOME ACCESSORIES Hall 4 — Stands G63
Discover the lighting and furniture designs of UMAGE, a brand that brings together the elegance of Danish design with a twist of flexibility, affordability and a strong sustainable mindset.
The company's lamps and furniture are created with a focus on aesthetics, simplicity and functionality. Most of the lamps and furniture are packed in compact gift boxes that can be re-used as a beautiful storage box. Thus optimizing worldwide logistics and storage costs and thereby reducing the environmental footprint on our planet.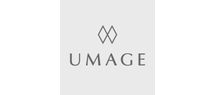 Add to selection
News
23/03/2020 NEW LOUNGE AROUND 1.5 SEATER

Lounge Around 1.5 Seater est une chaise de canapé multifonctionnelle et flexible conçue pour être la pièce maîtresse de votre salon. Conçu comme un espace pour prendre soin de vous et seulement de vous. Après une journée bien remplie, c'est l'endroit idéal pour se détendre, se détendre et se ressourcer

23/03/2020 NEW ASTERIA FLOOR

Le sol Asteria est né à la croisée du design, de la technologie et de l'artisanat. Il intègre une technologie LED intégrée avec une forme si minime qu'elle ne se démodera jamais. Le panneau LED est dimmable et possède un diffuseur blanc assurant un éclairage doux dans l'espace environnant.

23/03/2020 NEW CHIMES CLUSTER

La lampe Chimes dans un modèle en cluster composé de trois carillons suspendus à une verrière en métal noir. Le simple morceau de chêne massif imprégné de projecteurs LED chauds apporte les tons nordiques de la nature à l'intérieur. Le groupe de carillons 3 est inspiré par les lignes gracieuses qui se produisent dans une forêt dense d'arbres poussant étroitement ensemble.