UMAGE
Present at Maison&Objet Fair
From 08-12 September 2022
HOME ACCESSORIES
Hall 4 — Stands F4 - G3
Discover the lighting and furniture designs of UMAGE, a brand that brings together the elegance of Danish design with a twist of flexibility, affordability and a strong sustainable mindset.
The company's lamps and furniture are created with a focus on aesthetics, simplicity and functionality. Most of the lamps and furniture are packed in compact gift boxes that can be re-used as a beautiful storage box. Thus optimizing worldwide logistics and storage costs and thereby reducing the environmental footprint on our planet.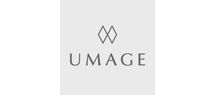 Add
News
20/01/2021 NEW JAZZ BLACK

Crafted from an exclusive 3D veneer technology, Jazz is inspired by the flowing lines found in a flourishing frangipani flower and a classical gramophone horn, hence the name. Use it as a pendant above the dining table, on Champagne floor, on the Willow family or simply placed directly on the floor creating a strong statement in the interior.

20/01/2021 NEW EOS LIGHT BLUE

L'abat-jour Eos tire sa force et sa beauté fascinante de ses plumes douces embrassant une atmosphère chaleureuse à la maison. Fabriqués à partir de plumes d'oie entièrement naturelles, ces abat-jours uniques offrent une lumière douce et chaleureuse et ajoutent une touche sophistiquée et élégante à tout décor intérieur.

07/09/2020 NEW CHAMPAGNE FLOOR

Imaginez une suspension… la tête en bas, se soulevant délicatement du sol. C'est la puissance particulière du Champagne! Conçu pour être un accompagnement élégant de vos célébrations quotidiennes, Champagne est un stand glamour disponible en noir ou en blanc. Associé à un abat-jour ou à une ampoule, son design robuste mais subtil s'intégrera parfaitement dans n'importe quel salon.