WWF PLUSH COLLECTION
Saving the planet one plush at a time! The WWF Classic Collection consists of a wide range of soft lifelike plush exclusively created for the World Wide Fund for Nature (WWF).
The WWF Plush Collection is sold in over 50 countries worldwide in the most beautiful shops and department stores. For every plush sold a donation is made to your local WWF office to support their conservation efforts. All WWF plush products are sustainable and therefore last a lifetime. They are manufactured according to the highest standards when it comes to to sustainability (Der Blauer Engel) and are made with a 100% recycled PET bottle stuffing. Our suppliers are carefully selected and all meet the "ethical supply chain" (ICTI) status.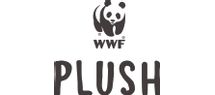 Add