HANDED BY
Handed By is the leading brand in woven baskets, bags and home accessories. Handmade of materials that leave the smallest possible footprint on the environment, such as recycled plastic and bamboo.
Handed By design is recognisable by the unique trademark stamp in the form of a handprint. Everything we put our hands to is manufactured ethically and is guaranteed 100% free of child labour. The Handed By products are giving used-plastics a second chance. We recycle industrial plastic waste into strap material, to create new Handed By bags and basket collections. Waste that would otherwise be thrown away and released into the environment with all its consequences. Join our journey and help us to reduce the plastic waste!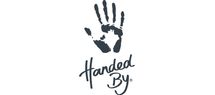 Add
News
18/01/2021 New Spring / Summer 2021 Collection

Handed By is the leading brand in handmade woven baskets, bags and home accessories and we are driven by the notion of creating a better world. Interested in how we are doing that? JOIN OUR JOURNEY

27/07/2020 New Autumn / Winter 2020 collection

Get inspired and enjoy coming Autumn / Winter season with Handed By! Because of the current circumstances, unfortunately Handed By will not be able to present their collection at international fairs. As a good alternative, we have made four inspirational videos about the new collections --> www.vimeo.com/handedby (Select your language at the 'CC' button at the bottom right).