ZONE DENMARK
Zone Denmark makes a statement that leaves you in no doubt. We interpret evolving trends by rethinking beauty and functionality for everyone who shares our belief in a profoundly positive life.
Expressed in an honest and colourful way, our designs challenge convention, inspire curiosity and embrace exquisite materials. We've won several international design awards with our team of innovative Danish designers, which is great. But it's our design-loving friends around the world that make it all worthwhile! // www.zonedenmark.net // Explore our virtual showroom in F&H Group A/S here: bit.ly/_virtualshowroom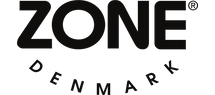 Add
News
08/03/2021 Zone ROCKS Cocktail mat

Bartender's choice. Turn up the wow-effect with this delicious new cocktail mat from the ROCKS collection.  It collects liquid spills and provides a non-slip work surface when mixing drinks. The mat measures 34 x 15 cm; it is designed by the Danish design team VE2 and perfectly fits the narrow tray from Zone Denmark's SINGLES collection.

05/03/2021 Zone Ume dispenser with sensor

Zone Denmark is now launching the elegant UME soap and sanitizer dispenser with sensor function – a highly relevant innovation at a time when everyone is focused on hygiene and showing consideration ... Now you and your guests can safely wash your hands without touching the dispenser – good news in a world where handshakes are out and hand hygiene is in!