MAISON SARAH LAVOINE
Maison Sarah Lavoine is a lifestyle brand offering elegant and timeless collections of design and decoration born from authentic and eco-friendly craftsmanship.
With her singular expression of colors, lines and materials, Sarah Poniatowski, its founder, creates spaces with warm and contemporary atmospheres. Wool carpets, velvet poufs, sofas, mirrors... the pieces are elegant, mixed and reflect the same state of mind: "Being happy is an art of living". The brand works with the best French and European craftsmen and is committed to preserving the environment through the creation and manufacturing of its products.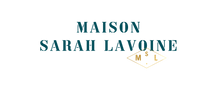 Add
News
09/03/2021 Collaboration with the Louvre Museaum - Collection les tuileries

Our new Tuileries collection is a collaboration with the Louvre Museum. A tribute to the colors, patterns and perspectives of this unique and authentic place. From the sails that sail on the fountains, to the ornaments of the statues, we take you on a bucolic walk that calls on the memories of our designer, neighbor and lover of the oldest garden in Paris.