TUBES RADIATORI
Established in 1992, Tubes is a truly one-of-a-kind case history in the radiator and heated towel rail industry, owing to the major focus on styling and formal innovation which has distinguished it since its market début.
Tubes has stood out from the rest from the very onset, having revolutionized the appearance of traditional radiators, turning them into genuine iconic pieces. Research and experimentation, both technological and aesthetic, has enabled Tubes to detach the radiator from its traditional definition and re-position it in the home as an item of interior design, sculptural almost, capable of redefining the architectural space. Tubes stands for creativity, design and innovation - all strictly Made in Italy.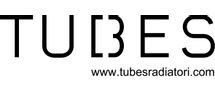 Add
News
09/03/2021 NEW PERSPECTIVES: TUBES' "ENDLESS" PRODUCTS

Tubes presents three new products which, in a different yet equal way, represent the concept of the "endless" design: these objects never cease to exist, but thanks to special evolutions instead continue to bring design to the world of heat, catering to the needs of architecture. This is the reasoning behind SOHO/electrical, MILANO/horizontal and RIFT/reverse. Discover more in the press release.