NON SANS RAISON PORCELAINE DE LIMOGES
Present at Maison&Objet Fair
From 19-23 January 2023
SIGNATURE
Hall 7 — Stands C81
For over fifteen years, as a French luxury designer and maker of porcelain objects, NON SANS RAISON has been manufacturing, creating and publishing tableware collections, design and art objects of high quality made in Limoges (France).
It is through innovation that NON SANS RAISON, founded in 2008, highlights the ancestral know-how of Limoges porcelain by creating, in accordance with the ancient traditions, contemporary products commercialized worldwide and adapted to new uses. NON SANS RAISON is also known for the diversity of its cross collaborations with artists and visual designers. Attached to the idea that creation has a meaning only in regard of a thought and reasoned approach, NON SANS RAISON sees the porcelain as a starting point towards a multi-sensory experience that sometimes escapes from the table.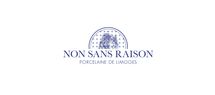 Add
News
09/03/2021 Opening of our first shop

We are really delighted to inform you of the opening of our first shop in a unique and singular place as close to our workshops. Since December 18, we are pleased to welcome you at 5 Impasse d'Isly in the heart of Limoges to present our universe, our collections, our workshops and always more novelties and limited editions to find the perfect piece blending exceptional French know-how with avant

01/09/2020 The Renaissance dinnerware set in Limoges porcelain

Our new Renaissance dinnerware set is made of a random and unique collage of recycled and ultra modern patterns on each plate. Renaissance thus gives new life to existing patterns in our collections so as not to leave room for waste in our workshops. And, always commits Non Sans Raison a little more in a new ethical, creative and responsible era.

01/09/2020 Brand book Non Sans Raison

Welcome to Non Sans Raison! Immerse yourself in our dinnerware collections in Limoges porcelain and discover exceptional pieces combining savoir-faire and avant-garde. Choose a porcelain with exceptional qualities with a very long history, a history intricately woven with the roots of men. ; the choice of resolutely modern and sustainable creations.