ARTEFICE ATELIER
We are a blend of art, design and good taste, a winning combination of stylistic inspiration from the past and a continuous search for the most modern appeal. Ours is a work of continuity of a "creative act" since ancient times.
Dynamic and eclectic nature, Artefice Atelier is founded on artistic experimentation, the constant search for beauty, and an approach to planning that has made "Made in Italy" craftsmanship its source of strength and pride. It uses top-notch materials and relies on highly experienced workers with a rare level of manual skill. Options in furnishing, style, and design for the contemporary home are offered through a profile including various forms of artistic expression, where painting melds with shape, giving life to unique objects, like a vase… a lamp... a fluid, prayerful sculpture.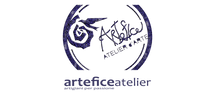 Add
News
16/05/2021 Discovering Bummulo.

Il object che most amuses at il table per il effect its amazement effect with each use. Very original and typically Sicilian, starting with the name it bears "Bummulo (earthenware jar) and Malandrino (mischievous)". Brought back to life by Artefice Atelier, BUMMULO dates back to the Middle Ages, in Sicily of the 11th century, in fact it is of Arab origin.