LA MAISON DE GASPARD
La Maison de Gaspard has developped a unique know- how to create and manufacture lamps, lampshades and wall decorations. We are able to contribute in many different decoration environments. We can produce your own customised decoration product.
La Maison de Gaspard creates and produces lamps and wall decoration in Saint Etienne France. We have developped a know-how based on a pictures printing concept on lamp shades, paper or canvas. This know-how is unique and it allows us to make tailor made products for our customers using their own visuals. Thanks to the material we use for the shades the lighting effect is soft and elegant. We combine wood and metal. We have developped a lot of themes such as mountain, sea, nature, trendy and many more.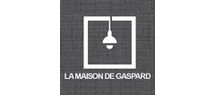 Add
News
22/07/2021 LA MAISON DE GASPARD IN PARIS M&O EXHIBITION

LA MAISON DE GASPARD IN PARIS M&O EXHIBITION - SEPTEMBER 2021