LASKASAS
At LASKASAS each client, space or project is unique. LASKASAS team strives every day to ensure the client's satisfaction, through the design and production of unique pieces.
Celebrating its 15º anniversary in 2018, LASKASAS is an interior design brand specialized in furniture, upholstery and metalwork pieces. With a long-lasting expertise, LASKASAS designs, produces and sells elegant, contemporary and quality pieces all around the world. Always looking to improve, LASKASAS has been making dream houses come reality. With a vast offer of quality fabrics and finishes from veneers to lacquered colors, there are no limits to LASKASAS.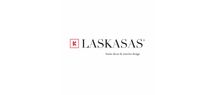 Add to selection
News
18/06/2018 Laskasas is putting the IN in Spring!

The days are longer, the sun is shining and the flowers are blossoming. And Laskasas is bringing life to your décor! Inspired by the 12 colors featured on Pantone's Spring Color Report 2018, the Portuguese brand designed unique pieces that will brighten your decor during the warmer days of the year.

11/12/2017 Press Release: 2018 Collection

In January 2018 the brand is flying over to Maison et Objet Paris to introduce to the world its approach to mid-century modern design but always keeping in mind the functionality and practicality needed in a home. This new collection features marble and wooden consoles, velvety beds and contemporary dining chairs. A sense of sobriety involved in nude and warm color pallets are a common element!