ANNAMARIA ALOIS SAN LEUCIO
ANNAMARIA ALOIS San Leucio is one of the last remaining workshops for the design and production of artistic fabrics. A factory of ideas where dreams come true: unique fabrics, precious trimmings and complementary furniture.
From the ancient silk tradition of San Leucio, started in the second half of 18th century by Borbone kings, to a classical interpretation of the art of furnishing, today. The same precious damasks and lampas that decorated luxurious and royal residences, in modern transposition in the fabrics employed for the elegant interior furnishing, designed in exclusive style and handmade by clever artisans. An union between classic and modern style that has been successful and now is completed with refined embroidered linens and ceramics handpainted by Vietri's and Capodimonte's masters.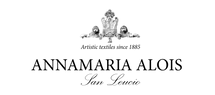 Add