BOURG-JOLY MALICORNE
BOURG-JOLY MALICORNE, artistic earthenware factory since 1747, continuing the ancestral tradition of hand-made and hand-painted earthenware using 18th century techniques. Labelled Entreprise du Patrimoine Vivant (EPV) and Ateliers d'art de France.
Supplier to the Principality of Monaco for the 2011 Royal wedding & showcased in "Le Grand Atelier" exhibition at Harrods, London. We have a long and distinguished history of creating bespoke commissions. We work extensively with event and wedding designers and luxury interior design consultants who specialise in private residences for high-net-worth individuals. The "Entreprise du Patrimoine Vivant" (EPV) label is a mark of recognition of the French State, put in place to reward French firms for the excellence of their traditional and industrial know-how.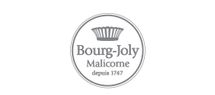 Add
Ateliers d'Art de France member
Collections
Projects
News
03/09/2020 Press release - September 2020

For the Maison et Objet Digital fair, September 2020, Bourg-Joly Malicorne presents a selection from it's iconic collection of handmade fine earthenware faiences. All our pieces are handmade in our atelier in Malicorne-sur-Sarthe, using the same traditional 18th century techniques that we have been using since 1747. Authentic French savoir-faire.