MIYAVIE MAISON KOICHIRO KIMURA
MIYAVIE is an earth-conscious product considering the next 100 years.
As an earth-conscious work including the philosophy of social contribution to the future in contemporary society through the fusion of the technological capabilities of "art, material" & "production, distribution, use, recovery and recycling", we aim to relate this idea to the future 100 years later. The relationship between art, society and our future is closer than ever, the idea of MIYAVIE is to bring people of the next generation a representation of this unity, as a monolith illustrating our present times, future generations will no doubt be inspired by this to progress further.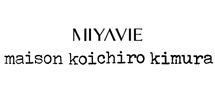 Add
News
01/12/2020 MIYAVIE new release the portable cushion square & PC case "ANYWAY"

Now that teleworking has become a part of a new lifestyle, you may be spending more time sitting at your desk. MIYAVIE is pleased to announce the portable cushion square & PC case "ANYWAY", that utilizes the material characteristics that are excellent in body pressure dispersion. It has excellent durability and can be enjoyed in various scenes according to the lifestyle.