MAMBO UNLIMITED IDEAS
Attending MAISON&OBJET
17-21 January 2020
TODAY Hall 6 — Stands B26 - C25
Craftsmanship is at the heart of our company. Portuguese long tradition in woodwork inspires our designers to create contemporary pieces.
MAMBO UNLIMITED IDEAS is based in Lisbon, Portugal, a country with a long craft tradition. Here we gathered the energies of talented people to develop our products. The work of our design team is developed towards global business, with international inspiration, while rooted in our local knowledge and crafts expertise. Our growing presence on the international market reflects our approach: our work is about innovation and creativity, with quality. And that's what we love to do. We invite you to travel through our collection, getting to know the richness of our pieces.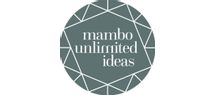 Add to selection
News
03/01/2019 Mambo Unlimited Ideas unveils new upholstered designs

Mambo Unlimited Ideas, a leading manufacturer of design home furnishings unveils two new upholstery designs - Luc Armchair and Chiado Settee. Luc armchair is described as within a simple, compelling and effortlessly stylish aesthetic. Chiado settee is a tribute to comfort and discreet elegance.