AMADEUS LES PETITS
Charm and tradition "à la française".
AMADEUS LES PETITS is specialised in the world of childhood from the gift birth to decoration items for kids. The brand imagines playful and trend items for babies and kids : plaids, baby sleeping bags, cuddy toy, Birth box, Night light, Musical box, tooth box and dolls.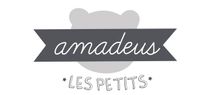 Add
News
21/01/2021 Produit bébé 9 enfants et puériculture

Des plaids, nid-d 'anges ou peluches toutes douces pour envelopper ou rassurer bébé. Des coffrets souvenirs pour conserver ces petites choses si précieuses que l'on ne souhaite pas oublier. Des boîtes à musique et des jeux en bois pour les premiers moments d'éveil. Des veilleuses pour les emmener au pays des rêves… lien: https://www.bebe9.com/marque/amadeus-les-petits.html

01/09/2020 Collections Amadeus Les Petits

Nos nouvelles collections Amadeus Les Petits sont avec des couleurs pastels et agrémentent nos produits phares et appréciés des enfants. Les peluches toutes douces, des boîtes à bons-points ou encore nos nouvelles gourdes sont à retrouver dans nos collections. Le thème "Victor Le Roi du Pôle Nord" est notre thème de Noël.

01/09/2020 Collections rentrées des classes Louise & Oscar

La nouvelle collection "Amadeus les petits" est constituée de couleurs pastels sur des produits phares et aimés des enfants. Des peluches toutes douces ainsi que des boîtes à musiques ou encore les gourdes viennent agrémenter nos univers. Le thème Victor Roi du Pôle Nord est notre thème de Noël.