ESTER & ERIK
Present at Maison&Objet Fair
From 08-12 September 2022
FRAGRANCES
Hall 5A — Stands A88 - C87
Elegant, high-quality candles. Every single ester & erik candle is a small piece of genuine craftsmanship. A natural product that is beautiful to look at, made with care and produced from the purest wax available – nothing more, nothing less.
For more than 30 years, we have been using the same raw materials to create elegant candles of the highest quality which are 100% natural and which are always being tested to ensure they burn in the best possible way – for the benefit of users and environment alike. All our candles are hand-coloured using durable, water-based dyes which do not fade in sunlight. The range comprises 88 colours, and we are continually developing new shades and tints, making sure you can always find just what you are after in our large colour universe.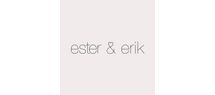 Add
News
08/01/2020 New interior fragrance collection

Colours turn into scents ester & erik have brought together our love of colours with the emotion of beautiful aromas in order to write a new chapter of the ester & erik universe. This range of scented candles and room diffusers creates a bridge between fragrances and colours, between useful and clever designs making them last beyond their initial purpose.

08/07/2019 New interior fragrances' collections

• Colours turn into scents: our new range reveals a bridge between fragrances and colours. The colours of the ceramic jars have been inspired by the original colour collection of candles. The number before the name proudly carries this heritage. • Versatile scented object : At any moment the metal lid or the ceramic jar can be used as a candle holder to hold our pillar candles. Just flip it!

15/08/2018 Scented candles collection : Nordic scent of pure nature

With a natural scent of Nordic nature this candle represents our love for Danish traditions and our dedication to pure Nordic fragrances. It's the essence of Denmark, shaped and formed by a long history of Kings and Queens and the incredible forces of wild nature.