WAKS CANDLES
Bringing the scents of contemporary Athens to homes around the world since 2005!
WAKS creates high quality, handmade, beautiful scented candles and reed diffusers to complement any mood and space, while respecting the planet. We are defined by our Greek-ness, are inspired by traditional crafts and promote Greek art and artists all over the world through our products. Discover our collections online and get in touch to learn more!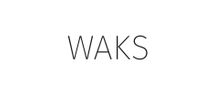 Add
News
02/12/2021 WAKS Art Story 01: The Wild Bunch

WAKS and Unknown Territory present The Wild Bunch! New limited edition collection of handmade scented candles, hand-painted by Timos Livaditis, Greek contemporary artist and founder of Unknown Territory. Through his ground-breaking approach, Timos uses art to deconstruct historical and political ideas, criticise contemporary society and share positive messages through humour.