OBJET DE CURIOSITÉ
Present at Maison&Objet Fair
From 19-23 January 2023
SIGNATURE
Hall 7 — Stands C2
Faced with the tensions of the outside world, Objet de Curiosité makes our interiors more precious, turning them into sanctuaries that are both authentic and valuable. Objet de Curiosité draws its inspiration from the passion of the extraordinary
Objet de Curiosité offers eclectic curiosities with a strong temperament to decorate the most unusual interiors through three themes: the living, the mineral and the decorative. We design all our products as we see fit and according to inspiring influence, whether they're one-off specimens or produced in limited edition. As far as we're creative people, we also love helping you design projects that turn interiors into magnificent settings. All our materials are genuine and come from high quality reliable sources.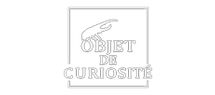 Add
News
14/10/2021 Black and White on Marine Ink

A marine panorama that unfolds its monochrome over 9 meters long. But this setting is not sad for all that: enhanced with black quartz, white marble, and giant gorgonians. Simply elegant.

27/08/2021 Hotel room

Almost Black & White, this bedroom is vibrating with the blue shades of the ultramarine bedsides, of the South American butterflies and the blue crystals from Bahia, unless you prefer a sunny yellow or one of the 143 possible shades for the wall sconces. https://objetdecuriosite.com/en/content/27-bedroom-with-a-view https://objetdecuriosite.com/en/content/28-bedroom-with-a-ray-of-sunshine

15/02/2021 SOUVENIR OF OURIKA VALLEY

Let's close our eyes and immerse ourselves in the terracottta hues of the Ourika valley in Morocco.Highlight the warmth of the place with copper wall panels.Let's add textures with a natural sculpture (longan tree burl) and a wicker chandelier.Don't forget additional color hints with a pink flamingo, a pink marble coffee table and an amethys.Let's enjoy the good vibes of an oversized Shiva-Lingam.