BEKA
BEKA Cookware carries 120 years of experience and tradition. We may have been crafting cookware since 1899, but enjoying good food and the company of friends never grows old.
Whatever the cooking technique or occasion may be, BEKA offers the appropriate solution. Since 1899 BEKA is all about making your cooking experiences easy and carefree. We stand for qualitative and well thought-out products so you can focus on what really matters in your kitchen; preparing great food and connecting with the ones you love. Of course design, functionality and quality are very important. But cooking is so much more. Therefore BEKA has developed cookware with just that little bit more. Fresh, bold and often surprising products that will boost all cooking pleasure!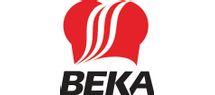 Add
News
01/07/2021 NORI of BEKA, the new range ready for all cooking and entertaining occasions

New NORI cast iron range, with interior and exterior triple enamelling, very design, will seduce with its style and excellent culinary performance. Frying, roasting, grilling, boiling, simmering, mashing, each NORI utensil has its function and allows you to go directly from the kitchen to the table for service.

01/07/2021 MAESTRO by BEKA, aim for excellence!

MAESTRO collection has been designed and tailored to fulfill the specific function of each type of cooking. Because we often ask ourselves this question, BEKA wanted to create a cooking utensil specifically adapted to a specific purpose and to its frequency of use. Exceptional 18/10 stainless steel or high quality aluminum materials that offer excellent performance.

01/07/2021 Universal lids of BEKA

BEKA universal lids are available in 3 different sizes to accommodate a large number of diameters from 16cm to 32cm. The silicone rings allow a cover to be applied to pots and pans of 3 different sizes.