THOMAS OVERESCH BERLIN
Our passion is designing and manufacturing of high-class home textiles including blankets, plaids, pillows, carpets, and lampshades. All of our sustainable-made designer pieces are created by our signature hand-knitting!
All our products are hand-made originals created in Berlin with love and patience from 100% natural, untreated pure new wool, kashmir, merino, exceptionally soft baby alpaca, as well as pure silk, yak hair, linen and other smooth materials from which we create exclusive It Pieces. The sustainability of our materials is one of our top priorities. We use high-quality and ecologically safe materials whenever possible and take care we purchase only untreated wool that is free of harmful additives.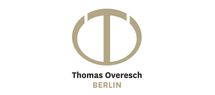 Add to selection