COUCKE
Specialised in jacquard, printed tea towels and table linen, COUCKE pays particular attention to the look and the quality of its products.
Founded in 1931 by René Coucke in the north of France, COUCKE started out as a brand of handkerchiefs, before branching out into table and kitchen linen in the 1970s. Nowadays the firm specialises in jacquard tea-towels, with special emphasis on a smart appearance and above all the quality of its products. We design a whole melting-pot of styles, drawing on both traditional and modern flavour.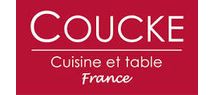 Add to selection
News
28/02/2020 Press Kit SS20 Coucke
04/04/2019 Dossier de presse Printemps/Été 2019

Découvrez le dossier de presse COUCKE Printemps/Été 2019

03/04/2018 Press kit Spring Summer 2018

Discover the press release of COUCKE for the new Spring Summer 2018 collection.