MAISON DE VACANCES
Present at Maison&Objet Fair
From 18-22 January 2024
SIGNATURE
Hall 7 — Stands D74 - D73 - E74 - D81 - E82 - D82
A "made in France" in & outdoor collection designed by Emmanuelle Fouks & Nicolas Mauriac for cool and luxurious houses. A special interior designer and contract service to make our designs and materials fit all your needs.
MAISON DE VACANCES style is a style made for all the people who want to play with colors without giving up the properties and qualities of materials. A Bohemian spirit using the materials and the techniques of the most exclusive brands. Colors are always a critical element of the collections. They give them life. Tones must always mix and match from a fabric to another. Find the secret of multiplication without duplication, like Verlaine's dream: «each time neither totally the same, nor totally different.»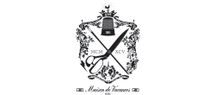 Add
News
11/01/2023 NOUVELLE COLLECTION DE CANAPE BOHO CURVE

Parce que, comme Mae West, nous avons toujours pensé que la ligne courbe est la ligne la plus jolie pour aller d'un point à un autre, nous avons donc décidé de nous lancer un défi qui relevait presque du problème de la quadrature du cercle : faire un véritable canapé BOHO aux formes arrondies et au confort inchangé.

05/03/2021 LES NOUVEAUX DESSINS DE MAISON DE VACANCES POUR LES BEAUX JOURS

Maison de Vacances launch two new collections for spring summer 2021 Bogolan and Cyclades. Bogolan, ode to the unfinished and the random Cyclades, the big come back of the stripes !