MAISON DE VACANCES
Present at Maison&Objet Fair
From 08-12 September 2022
SIGNATURE
Hall 7 — Stands A92
A "made in France" in & outdoor collection designed by Emmanuelle Fouks & Nicolas Mauriac for cool and luxurious houses. A special interior designer and contract service to make our designs and materials fit all your needs.
MAISON DE VACANCES style is a style made for all the people who want to play with colors without giving up the properties and qualities of materials. A Bohemian spirit using the materials and the techniques of the most exclusive brands. Colors are always a critical element of the collections. They give them life. Tones must always mix and match from a fabric to another. Find the secret of multiplication without duplication, like Verlaine's dream: «each time neither totally the same, nor totally different.»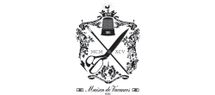 Add
News
05/03/2021 MAISON DE VACANCES ENLIGHT SUMMER WITH ITS NEW PATTERN COLLECTION

Maison de Vacances lance deux nouvelle collections pour l'été 2021 Bogolan et Cyclades. Bogolan, ode à l'inachevé et à l'aléatoire Cyclades, le grand retour du rayé !