MOISSONNIER
French manufacturer of luxury furniture.
Based in Bourg-en-Bresse since 1885, its factory perpetuates and enhances traditional cabinet- making techniques. Representing the French art of living, its collections have asserted a unique Moissonnier style since the end of the 20th century. A blend of audacity and authenticity, it brings the creativity of fashion to the world of hand crafted furniture. From special orders to global layout, Moissonnier operates on prestigious projects including numerous luxurious hotels.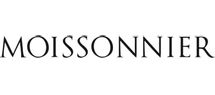 Add
News
03/02/2020 2020 PARIS DECO OFF

Moissonnier revisits its classics and is inspired by couture in its latest collection. In total look or in shade, the creations are always as daring as ever, playing with patterns and colours to twist the iconic pieces.