MOISSONNIER
The embodiment of luxury and the French art of living, Moissonnier cabinetmaking perpetuates ancestral know-how through a collection of historic-style furniture, twisted by creative audacity and an unequalled sense of patina.
Distinguished by the label "Entreprise du Patrimoine Vivant" (Living Heritage Company), Moissonnier has over the years become a hallmark of French luxury. At the crossroads of historical styles and the aesthetic avant-garde, the brand traces its own path marked by emotion and eclecticism, but also by the demand for fine craftsmanship and special orders for residential and hotel projects all over the world.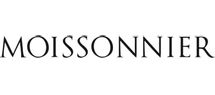 Add
News
25/08/2020 PARIS DESIGN WEEK

For Paris Design Week, Moissonnier is partnering with Le Presse Papier to present a capsule collection that showcases the know-how of wallpaper covering. Each piece of furniture reveals its own personality, full of the creative audacity of the house. For who better than Moissonnier knows how to give to the pieces resulting from the great tradition of French cabinet making that specific twist.

03/02/2020 2020 PARIS DECO OFF

Moissonnier revisits its classics and is inspired by couture in its latest collection. In total look or in shade, the creations are always as daring as ever, playing with patterns and colours to twist the iconic pieces.