MOISSONNIER
Manufacturer of French luxury furniture.
Based in Bourg-en-Bresse since 1885, its factory perpetuates and enhances traditional cabinet- making techniques. A leading name in French interior design, since the end of the 20th century its collections have asserted a unique Moissonnier style. Combining authenticity, eclecticism and boldness, it brings the creativity of fashion to the world of crafted furniture.From special commissions to comprehensive interior design, it works on prestigious projects including numerous luxurious hotels.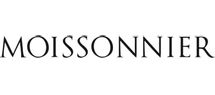 Add to selection
News
11/01/2019 PARIS DECO OFF - FROM 17th TO 21TH OF JANUARY 2019

MOISSONNIER participates for the first time at PARIS DECO OFF. This is also the opportunity to come being immersed by our new ambiance... The feeling of mystery is never far away, rewakened by the soft beauty of powdered roses and the whiter tones of more spring-like pièces. The marquise Gondola chair is a glorious profusion of flowers in the English style... The result is nothing less than echan

27/02/2018 New collection Miss Daisy

Moissonnier is famous for its "Haute-couture" collection. The new line Miss will be its "Ready to wear" : affordable luxury & modern twist. Beautifully crafted & colorful spirit are still the DNA of this new line. New matt hand painted finish brings modernity. The collection of 15 models will be ready for spring.

20/04/2017 ICFF Fair

Moissonnier will participate to ICFF fair at New York from 21 to 24 May at Javits Center.