TESSITURA TOSCANA TELERIE
Since 1947, TESSITURA TOSCANA TELERIE has been producing luxury Italian collections: tablecloths, tea towels, duvet covers, pillows, sheets and private collections.
TESSITURA TOSCANA TELERIE launches the new 2020 campaign with new designs. The 100% linen tablecloths have a special design and a customized design for each size and are definitely the most relevant items of our company. Novelty 2020 bedding collection the "IZYLINENS" cotton percale, bed linen printed cotton, perfect duvet cover or sheet sets, a decorative element for the home.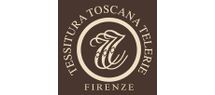 Add