CROLL & DENECKE GMBH
Our family enterprise, established in 1897, is specialized in processing natural sponges and high quality bath accessories from renewable materials.
Sustainability and environmentally friendly use of raw materials from the sea - that is what we stand for. High-quality massage products of natural and renewable materials such as sisal, flax, linen, wood and cotton ensure a deep cleanse and joyous relaxation. No matter whether you use massage brushes, sponges, gloves, or belts, relaxation is guaranteed with exquisite massage products from nature.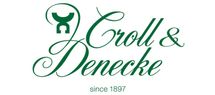 Add