LIGNE ROSET
LIGNE ROSET: the passion of design for 150 years. Seats, furniture and decoration, each product is the result of more than 100 years of expertise. Since 1860, the company has been located in the heart of France where most of its furniture is produced using the most modern manufacturing methods. However, for many operations, we can not and do not want to replace manual work. Each ROSET LIGNE furniture is therefore very personal and not only by its design.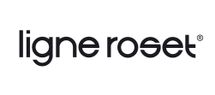 Add
News
15/01/2018 RÉÉDITION DE LA CHAISE ET DU BRIDGE CM 131 DESIGN PIERRE PAULIN

Parmi les premiers dessins de Pierre Paulin, on trouve le bureau CM 141 (1954), édité depuis 2008 par Ligne Roset sous le nom de Tanis et la chaise CM 131 (1953), qui lui était souvent associée. En 2018, les coques utilisées par Ligne Roset pour la réédition de CM 131 sont à nouveau produites par Pagholz, le fabricant d'origine, le même qu'il y a 65 ans, à partir des moules de l'époque.

15/01/2018 RÉÉDITION DES CANAPÉ ET FAUTEUIL BONNIE DESIGN PIERRE PAULIN

C'est à partir d'un des très rares exemplaires disponibles acquis sur le marché des collectionneurs que Ligne Roset a pu étudier la réédition des sièges Bonnie (modèles 500 et 500/2 création Pierre Paulin 1975). D'emblée, les sièges Bonnie frappent par leur confort visuel et réel : ils épousent radicalement les formes du corps humain qui s'y pose.

15/01/2018 LANCEMENT DU CANAPÉ SINTRA DESIGN NOÉ DUCHAUFOUR-LAWRANCE

Noé Duchaufour-Lawrance réussit un brillant exercice de style sur une base classique à forte personnalité. Sintra démontre que le savoir-faire d'exception des couturières et tapissiers de Ligne Roset à Briord (01), souvent mobilisé pour parfaire des réalisations au design révolutionnaire, Togo, Ploum, Ruché,… peut tout aussi bien s'appliquer avec panache à un canapé raffiné de très haute facture.