ARTIGIANI DEL CASHMERE
We are passionate about uncompromising quality, innovation, style, uniqueness and tradition the whole 100% Made in Italy. Come to discover our soft world: the World of Cashmere!
We are a small group of Italian craftsmen. We produce throws, blankets, cushions and shawls 100% cashmere in limited edition, fully customized. We are passionate about quality. Our products are traceable through QR code and thanks to our innovation we embroider with gold thread 24K, we laser engrave, we use microcpsules that release scents, we dye with natural pigments. We take care of every single piece. Small quantities with great quality!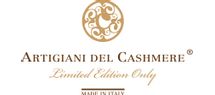 Add to selection