DEKOCANDLE
DEKOCANDLE. Candle with care.
Since more than 15 years, DEKOCANDLE specializes in the production of high-quality hand poured candles. They combine pure craftsmanship with contemporary design. All candles are available in an extensive palette of 65 colors. Under the brand name 'ICCI Home Collection', DEKOCANDLE offers an exceptional collection of scented candles. DEKOCANDLE brings also a wide range of stylish accessories such as lanterns, candle holders and mouth blown votives and vases as well as a collection of decorative pots and vases in ceramic.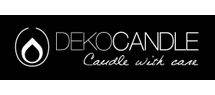 Add
News
20/02/2018 Our colour selection for Spring-Summer 2021

Life is full of colour, so is our collection! Every season, we propose our selection of trend colours. For coming spring-summer we choose for Coral, Lila, Brique and Cloudy! Result? A lively atmosphere guaranteed! Enjoy!