MADE A MANO - ROSARIO PARRINELLO
MADE A MANO SRL, a company entirely Italian, conceived and created by ROSARIO PARRINELLO without branches or subsidiaries, it is present with various showrooms around the world.
The business was founded 45 years, evolving over time, to become today a solid reality. Working in close collaboration with design firms, hand-made, you take care of the manufacture and decoration of ceramic tiles and / or Etna stone, enamelling on customer need, up to a size of 3.0 x 1.5 meters, the finite elements are used for custom furniture, kitchens, bathrooms, pools, spas, shops, hotels and luxury houses.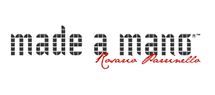 Add