AMALIA HOME COLLECTION
Amalia Home Collection has been refreshed, to present the perfect complements to its bedding's offer. All products are made in Portugal, in pursuit of a perfect sleep.
Amalia Home Collection is a culmination of almost 100 years of experience and heritage in the textile industry. Its roots can be traced back four generations, when some original mills of northern Portugal began to manufacture products that personify European quality and craftsmanship. The tradition continues today with Amalia Home Collection. Drawing its inspiration from the very place the product is made, the collection represents the landscape and people of Portugal. From the coastline to the mountainside, each design is made to bring a little of Portugal to your home.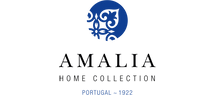 Add
News
19/12/2019 Amalia Home Collection: ambassador of Egyptian Cotton™ bedding

Amalia Home Collection is one of the first companies to have the Egyptian Cotton Association Gold Seal accreditation. In October, the co-founders were part of an exclusive group of close partners who had the rare opportunity of seeing firsthand where it all starts.